At Crawfish Center, we're always dedicated to helping you make that next big catch. Our goal is to create the highest quality traps at the most competitive prices with a focus on your specific needs. We're proud of our proprietary innovations when it comes to trapping. We're not only the creators of the "T" rod, but we've also customized our own trap tops as well. We also have bait stocked for the season! Come to us for the quality expertise, products, and service you deserve. From traps to bait and sacks, we have everything you need to have a great catch.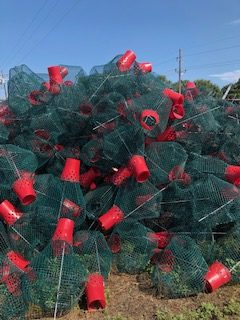 Crab trapping
Wire mesh
Net mesh
Gloves
Purina® products
Crawfish sacks
Boots
Pyramid crawfish traps (customer's choice of wire and top)
Basin traps
Hog rings (various sizes and alloy)
Crawfish sacks (variety of colors)
Hexagonal wire mesh in various sizes, widths, and gauges
Square welded mesh in various mesh sizes, widths, and gauges
Purina, Southern Pride and Cajun World artificial bait
Regular Top (19" & 21″) and Long Neck Top (23" & 25″)
Hexagonal: 44" x ¾"
54" x ¾"
Square: 44" x ¾" 18 Ga.
54" x ¾" 18 Ga.
44" x 7/8"
54" x 7/8" Sq.
¾" x 24" x 18 Ga. hexagonal wire mesh
¾" x 24" x 18 Ga. square weldmesh wire
7/8" x 24" x 18 Ga. square weldmesh wire